About Us
Thompson Jewellers is a well-renowned jewellery store with a reputation for quality in the jewellery industry. Established in 1952, Bob Thompson's is a family-owned and operated business located on the corner of Bank and Gloucester Street in the heart of Centertown. We pride ourselves on our unique jewellery collections and we are known for our exceptional service, as we strive to meet every customer's needs. Thompson's carry an exclusive selection of products that are sure to become part of your family heirlooms for generations.
Our Values
Thompson Jewellers concentrates primarily on exceptional customer service; where we help you every step of the way in making your dreams a reality. We aspire to make your experience with us enjoyable and one of a kind, by getting to know you and your vision.
At Thompson's, we dedicate ourselves to provide you with stunning collections and beautiful, handcrafted custom jewellery that you will be proud to show off.
Here at Bob Thompson's, you are part of our family.
Our story
Bob Thompson started his career in the jewellery industry in 1952, where he began as a respected and skilled watchmaker. Over the years, his interest in the industry expanded into jewellery.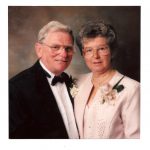 Bob's wife, Margaret, joined Bob Thompson Jewellers in 1970 where she handled the bookkeeping and daily store operations, working very hard together to succeed in a competitive industry.
Throughout the 50 years of their career, Bob and Margaret's main focus was to provide excellent service to their valued customers, while paying great attention to detail. 
Today, t
he Thompson name is known for its unprecedented craftsmanship in both jewellery making and watch repairs, maintaining
their reputation as
one of the leading jewellery stores in Ottawa.

Currently, the second generation of the Thompson family, Greg, Jeff, and Derrick, have successfully followed in their parents' footsteps, each having excelled in his own specialty in the trade.

Together they comprise one of Ottawa's most innovative providers of fine jewellery, watches, giftware, and accessories.
Thompson's Jewellers